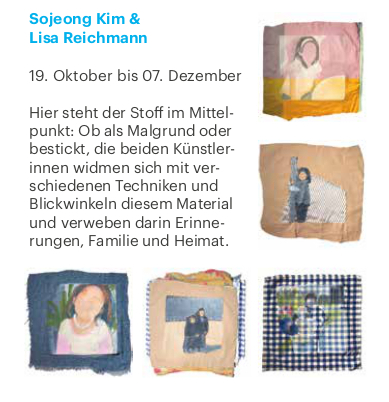 "Sojeong Kim & Lisa Reichmann"
Galerie die 8
Künstlerstadt Kalbe
19 October to 07 December 2023
Galerie die 8, Alte Bahnhofstr. 8, 39624 Kalbe (Milde)
more information at:
Open Studios – Saxony-Anhalt
on 16 and 17.09.2023 from 11 a.m. – 6 p.m. each day
Bernburger Str. 14/ 06108 Halle
Between Needle, Thread, Felt and Loom – Selected Contemporary Positions in Textile Art
13 August to 23 September 2023
Netuschil Gallery, Schleiermacherstraße 8, 64283 Darmstadt, Germany
with Anne Haring (Saarbrücken), Rebecca Hilser (Halle), Sandra Heinz (Mainz), Sonja Weber (Munich), Lisa Reichmann (Halle), Victor Schönrich (Darmstadt), Yunyoung Kim (Soeul/Halle), Victoria Martini (Munich), Patricia Waller (Berlin), Angelika Summa (Würzburg), Annegret Soltau (Darmstadt)
Opening Sunday, 13 August, 11 a.m.
Kapriolen im Pelz
23 June to 8 August 2023
Gallery Alte Handelsschule, Leipzig

with works by Heidi Baudrich, Rosa Maria Hille, Ulrike Lux, Inka Perl, Lisa Reichmann, Michel Schneider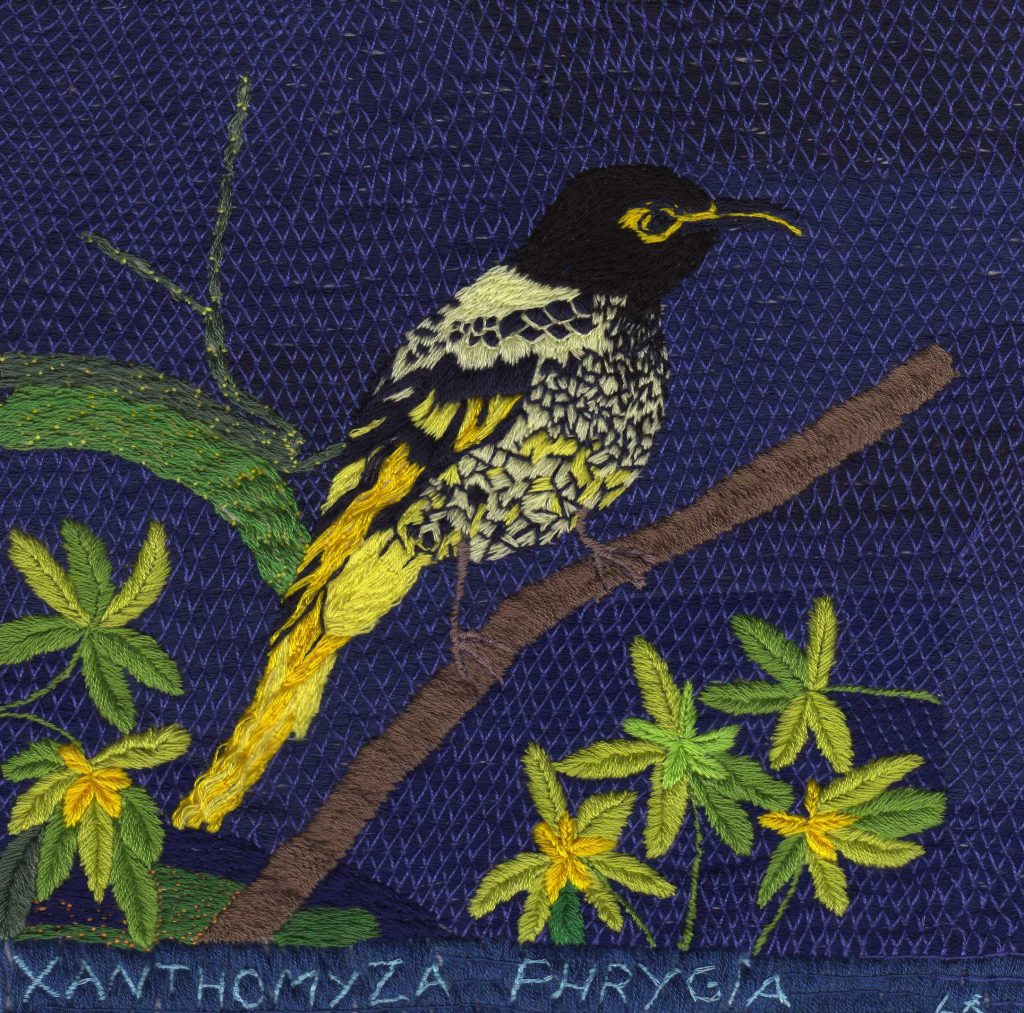 HERMANN & FLORA
4 February to 4 March 2023
Galerie Nord, Bernburger Str. 14, Halle
with works by Hermann Grüneberg, by Inge, Grita and Moritz Götze, Helmut Brade, Klaus Völker, Rüdiger Giebler, Sebastian Herzau, Lisa Reichmann and Sarah Kürzinger
27th art fair women's museum Bonn
11.-13.11.2022
openig hours:
friday: 4 p.m. to 8 p.m.
saturday: 1 to 7 p.m.
sunday: 11 a.m. to 5 p.m.
courses and workshops
textile arts/ textile techniques
from May 2023
more information:
GRASSIMESSE Leipzig
21.-23.10.2022
opening hours:
friday/saturday: 10 a.m. to 7 p.m.
sunday: 10 a.m. to 6 p.m.
Poesie und Verstand – eine Widmung an Novalis
24.04. – 29.05.2022, Kunststiftung Sachsen-Anhalt, Neuwerk 11, 06108 Halle/Saale
Opening: saturday April 23, 15:00
"Nord-Süd-Linie"
Kunstverein Wiligrad, Lübstorf
05.02. -27.03.2022
Opening:
saturday, February 5, 17:00